Edward Lee and Lindsey Ofcacek on the Great Potential of a Nonprofit Restaurant
Plus: Eating like a prince in Berkeley, rescue vegetables, and bread-free egg-in-a-hole
---
This Week's Marksisms
An interesting conversation today — that I think is going to lead to an interesting follow-up — with chef Edward Lee and his business partner at the LEE Initiative, Lindsey Ofcacek. They've been working on a nonprofit relief program since the beginning of Covid, and even before; they've worked on labor issues; they've worked on a number of things to make restaurant models better. But their idea now is to create a nonprofit that will demonstrate a number of things about the restaurant business and ways to make things move forward, from treatment of labor, to elevation of women, to the way energy is used in restaurants — electricity instead of gas, the use of single-use plastics. Really what we talk about is how a nonprofit restaurant might do things better and what that can demonstrate; there are some unique aspects to what Edward and Lindsey are doing.
It's not entirely coincidental that I'm working on a nonprofit restaurant model, too, tentatively called Community Kitchen; I've talked about it a little bit, and we've written about it in the newsletter some. But we don't talk about Community Kitchen much in this conversation, and one of our ideas is for Edward and Lindsey to come back and interview me. So that might be happening—let me know if it sounds interesting to you! Meanwhile—please listen to today's episode, and share it if you'd like.
Follow Food with Mark Bittman on: Apple Podcasts | Spotify | Overcast | Pocket Casts | Amazon Music
---
Why Is the Food System Like the Airlines?
Here's a completely thoughtless, even idiotic, story about traveling with junk food. I don't recommend reading it, and there's no way you will finish it, but I include it for contrast with this brilliant piece about what might be called ultra-processed airline travel. The story goes: Air travel is terrible. Air travel is terrible because it's been commoditized. "Award" miles are now a bigger business than the actual business of moving people from one place to another, which makes the airline business into a financial business. Conclusion: It's not serving the population, and should be re-regulated. How different is this from food, which is largely unregulated, exists not to make a serviceable product but to generate profit, and simply isn't working? Anyway, even if you don't buy my analogy, the airline piece is intriguing.
---
A Good Start for Restaurant Workers
Here is some good news on the restaurant labor front from Chicago. It's a compromise, but a decided victory, portending more on the horizon.
---
Eating Very Well in Berkeley
I was in Berkeley last week, the main reason being a talk/interview with the great Bryant Terry at the Belvedere Tiburon library, which I hope we can post before too long (yes, folks?). (You can find Bryan's wonderful book here.)The night before the talk, I visited with my friend Phillip Stark, one of the Bay Area's pre-eminent foragers and cooks, and probably its most brilliant statistician. Philip took me to Sushi Salon, a pop-up where we were served an unusual, wonderful omakase, almost entirely composed of sashimi and sushi, mostly fresh from Japan and killed by an unusual and supposedly superior method I don't understand well enough to get into. Sushi Salon will soon get its own space.
Of course I had to check out the restaurant that houses the Sushi Salon pop-up, an izakaya called Fish & Bird , so I went back there the following night, this time with my friend, the unique writer and activist Tunde Wey. Call me old-fashioned, but I loved the mashup of hearty, interesting, seemingly random dishes there, and actually returned the following night with my friends and hosts Dave and Anjali. What fun: samphire tempura, grilled squid, halibut en papillote, blackened eel, gorgeous black cod, and so on. Even dessert: tres leches cake with matcha cream.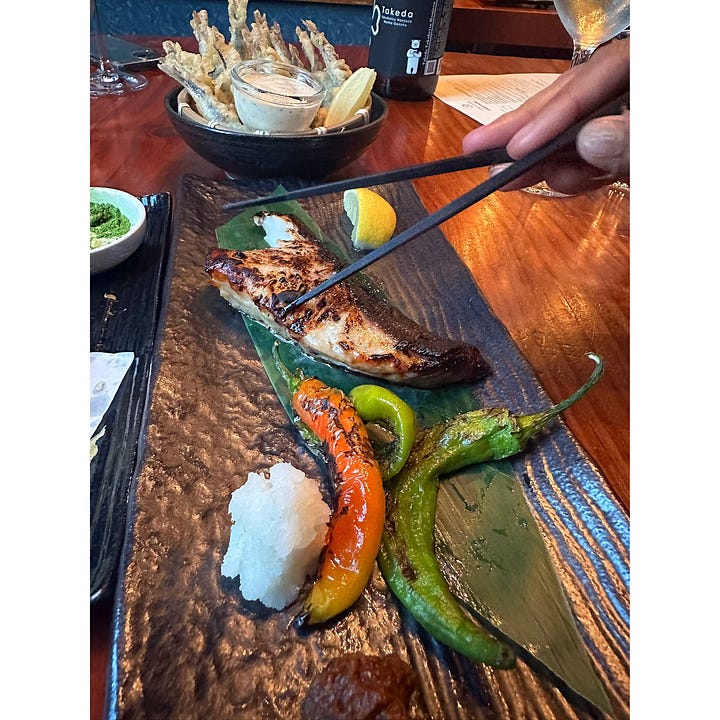 Somewhere in there, I managed to hit my friend Casson Trenor's vegan sushi izakaya called Tane (also in Berkeley), where the highlights were tomato sushi (looks like tuna, has more flavor) and the perfectly fried tempura. Casson was on the podcast a few weeks ago, explaining that "sushi" doesn't mean "fish," but "rice," and they're walking the walk over here.
So: Four super meals in three nights. Not a bad trip. 
---
Vegetable Overload? No Such Thing.
This post is for paid subscribers