Two Cooks, Three Squashes = Seven Recipes for the Season
Holly and Kerri finally meet—let the food magic commence!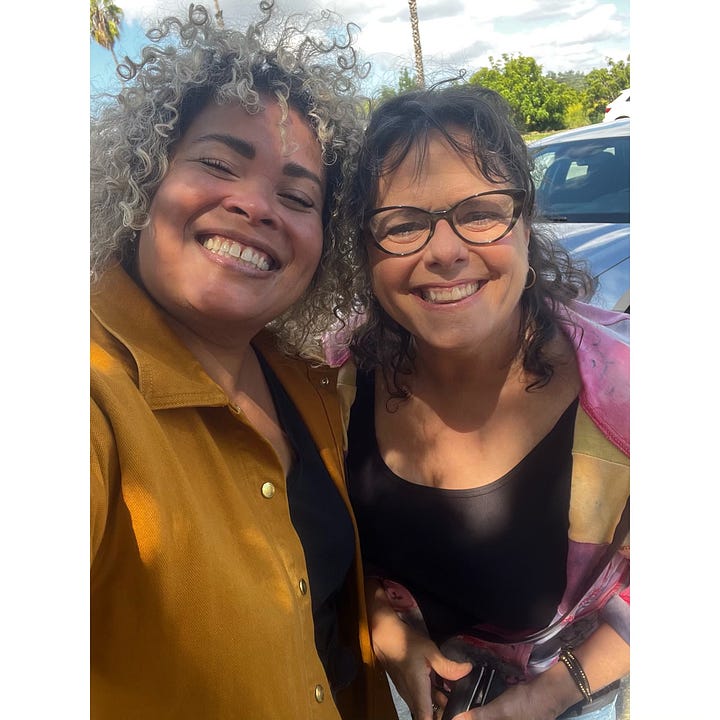 ---
Kerri: Holly and I carved out our plan to write a piece together without knowing we'd end up celebrating winter squash on All Jack-o-Lantern's Eve. I was going to be right up the road from Holly, near San Diego, visiting family around the autumn equinox. The idea was to meet at a bountiful farm stand (she'll tell you all about that in a minute), pick the same seasonal produce, return to our respective kitchens, then circle back—recipes in hand—for a post on The Bittman Project.
Holly: Finally, Kerri and I are in the same city at the same time! I could not wait to take her to my favorite farm stand, Chino Farm. They arguably grow the best produce in San Diego county, maybe the best in Southern California. The 45-acre farm prizes flavor above all else, and the stand was thick with winter squash when we arrived—at least eight different varieties. We each got one each of spaghetti squash, blue hubbard squash, and my personal favorite, koginut.
Kerri: Oh we here at The Bittman Project have gone all in on winter squash before. But it's been a while. The squashes Holly and I chose were all adorably on the small side—between one and two-and-a-half pounds each. (Thank goodness, since mine were destined to be luggage stowaways.) The recipes below include whole squash approximate weights or proportions, and the volume of cooked pulp only if it's important to be somewhat exact. That way you can adjust the quantities of other ingredients to whatever size squashes and types you've got.
First up is spaghetti squash, with its fantastic texture and bland flavor. We'll show you how to twirl those strands into the best they can be. Next come the recipes for koginut, with the shape and edible peel of a butternut and the creaminess and deep color of kabocha. Our two recipes for this somewhat-hard-to-find squash will also work with acorn, delicata, or any thin-skinned winter squash. And finally we'll serve up the blue hubbard, prized for its deep flavor and luxurious pulp. Small and sweet sugar pumpkins (not to be confused with the fibrous and flavorless carving pumpkins), kabocha, red kuri, and buttercup are all excellent stand-ins. 
Kerri and Holly (enthusiastically, in long-distance unison): Okay, everyone, let's get squashing!
---
Twice-Cooked Spaghetti Squash with Quick Szechuan Chile Crisp
Makes: 4 servings
Time: 90 minutes, largely unattended
Spaghetti squash gets a bad rap for being bland. Well-deserved, but easy to remedy with robust toppings or a twice-baked cooking approach. Or both, as in this recipe. You can use any winter squash here. After scooping out the flesh in Step 2, mash it lightly so you end up with flattened chunks of all sizes and shapes for the browning in Step 5.
Ingredients:
1 large or 2 small spaghetti squash (about 3 pounds)

1 teaspoon Szechuan peppercorns 

1 to 2 tablespoon red pepper flakes or other dried ground chiles

Salt and pepper

1/4 cup olive oil

1 or 2 tablespoons chopped garlic
Instructions:
1. Heat the oven to 375°F. With a carving fork or thin long knife, carefully poke the squash through the skin to the center in a couple places. Put them on a rimmed baking sheet and roast, turning once or twice, until the skin darkens in places and the squash collapses, 30 to 45 minutes, depending on the size of the squash or squashes. It should be tender all over when you test it with a knife. 
2. When the squash is cool enough to handle, cut a lid off the top to remove the stem. To keep the strands as long and intact as possible, peel and scoop out the flesh in larger pieces; gently break into the inside to spoon out the seeds and their pulp and separate them from the edible parts of the squash. (At this point you can refrigerate the squash in an airtight container for up to a couple days before proceeding.)
3. To make the chile crisp, put the Szechuan peppercorns in a small heatproof bowl and press with the back of a spoon to break them up. Add red pepper flakes or chiles and sprinkle with salt and pepper.
4. Put the oil in a large skillet (preferably cast iron or non-stick) over medium heat. When it's hot, add the garlic and cook, stirring frequently, until the bits puff and turn golden, about 3 minutes. Pour the hot oil and garlic over the spice mixture in the bowl. Scrape any garlic out of the pan but leave a thin film of oil behind.
5. Return the skillet to medium-high heat. Add the squash in big tangles of strands, pressing down with a spatula. Cook undisturbed until crisp and browned in places, about 3 minutes, then turn with a spatula to cook the other sides. Serve right away, drizzled with some Szechuan chile crisp. (Refrigerate any remaining chile crisp in an airtight container; it will keep about a week.)
— Recipe developed by Kerri Conan
---
Roasted Spaghetti Squash with Brown Butter and Walnuts
Makes: 4 servings
Time: 45 minutes
Silky strands of squash soaking up nutty, earthy brown butter tastes like fall. It takes a little time for the squash to become tender, but once you get it roasting you can walk away until it's time to make the brown butter, which is best done at the last minute. Pro tip from Holly: For more detail, check out this video of Mark roasting a spaghetti squash (and kind of roasting the host of the show, zing!). 
Ingredients:
1 or 2 spaghetti squash (about 2 1/2 pounds total)

Olive oil as needed

Salt and pepper

1/2 cup walnuts

2 sprigs fresh sage

4 tablespoons (1/2 stick) butter
Instructions:
1. Heat the oven to 500°F.
Halve the squash lengthwise and scrape out the seeds.
2. Put the squash on a rimmed baking sheet, drizzle with olive oil, and sprinkle with salt and pepper. Turn them cut side down.
3. Put the squash in the oven—it doesn't have to be fully heated. Roast until the squash are tender and a knife easily pierces the skin, 30 to 40 minutes.
Chop 1/2 cup walnuts. Strip the leaves from 2 sprigs sage and chop.
4. After the squash has cooked for 25 minutes or so, put 4 tablespoons of butter in a small saucepan over medium heat. Cook, swirling occasionally, until the foam subsides; and the butter turns nut brown, 3 to 5 minutes. Stir in the walnuts, sage and a sprinkle of salt. Turn off the heat.
5. When the squash are tender, carefully use a fork to scrape and loosen the strands of squash, keeping them inside the skin.
6. Put each squash half on a plate, sprinkle with salt and pepper and spoon the butter mixture over the top.
— Adapted from How to Cook Everything Fast, Revised Edition
---
Koginut en Tacha
This post is for paid subscribers