Manu Buffara Once Accidentally Fermented Her Clothing
Plus: Bud Light's cowardice; I can't stop cooking; and my refrigerator, exposed
---
Manu Buffara, today's guest on Food is, unequivocally, what you would call a fancy chef. Her food is elegant and thoughtful, she loves sourcing ingredients for her restaurant, Manu, in thoughtful ways, and she has working relationships with her local fishermen. Much of what she does can be seen as a template for how restaurants–notably, yes, upscale restaurants–should be moving forward. This was an energetic and fun and diverse and wide-ranging conversation, and I'm so glad we got to meet Manu and hear about the work she's doing.
Can I make an ask? If you love the podcast, and you haven't yet, would you please leave us a review on Apple? It really helps. Marksisms below!
Follow Food with Mark Bittman on: Apple Podcasts | Spotify | Overcast | Pocket Casts | Amazon Music
---
This Week's Marksisms
Greenhushing Rears Its Ugly Head
Some friends and I had a discussion yesterday about 'greenhushing' – companies that kind of do the right thing, whether around sustainability, equity, gender, cultural issues, or anything else – and then stay mute or at least quiet about it, for fear of reprisals from those who will, whether out of ignorance, vested interest, or bias, criticize them for it.
I found this WaPo piece stunning. Bud Light (I found it surprising that it's not Bud "Lite"), a brand not exactly known for its progressivism, sent a trans person some personalized cans of beer. She did a TikTok with Anheuser-Busch to publicize this. So far, who cares? This isn't exactly earth-shattering.
But a number of anti-trans people – what do you call them? gender intolerant? jerks? regressives? fearful little children? – reacted predictably. Hatefully, spitefully, idiotically.
Brian Broome, in this piece, uses this situation to explore the concept of masculinity in a way I found helpful. But there's another point here, which is that Anheuser-Busch beat a hasty retreat from their originally gender-tolerant stance.
I don't expect a lot from corporate America. Bud Light's simple gesture was not exactly bold, but it was at least a bit enlightened. Its lame retreat, however, was cowardice, and perfectly defines greenhushing. If you're going to do the right thing, you'll probably get criticized for it – that's how things are when everyone has a loudspeaker – so you might as well acknowledge that in advance and be prepared to explain how what you did was right in the first place. (More here.)
Wait: There's Too Much Good TV?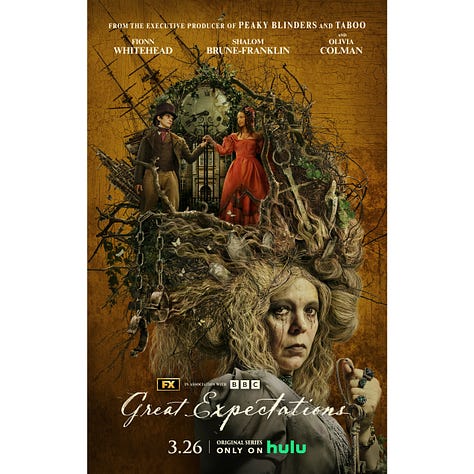 Suddenly, there is too much TV. Like if it were January, and I had a cold, and it was snowing, and my car was broken, I'd be pretty happy about it. As it is, it's freaking inconvenient. I'm trying to keep up with the NBA; that's impossible. I'm trying to keep up with this completely bizarre Great Expectations; that I can manage. I'm keeping up with Barry, out of loyalty, even though it may well have jumped the shark. But now there's The Diplomat (on Netflix, which maybe is emerging from its slump), which is more fun than all the other stuff put together. If I didn't have to work, I'd have finished that thing already.
This post is for paid subscribers