Limes, Hummingbirds, and 50 Cousins
Discovering family, part one: The way it was
This is the first of a five-part series from Mike Diago about a trip he took with his family to his ancestral home in the city of Honda, on the Magdalena River in Colombia. As he says, "I knew if I didn't take them there soon, they'd never get to know the family or taste the local foods—the fruit, the breads, the stews—in their proper context." The journey starts here (and of course, there are recipes).
---
This summer, I pried myself from my relaxing backyard routine of birdwatching with my son and chatting with my neighbors about electric lawn mowers to take a two-week trip to Colombia. I wasn't interested in the carnivals of Barranquilla or the beaches of Cartagena. What got me on that plane was a desire to bring my wife Zoraida and our sons Marcel (8) and Naeem (2) to a place 900 miles south of there, following the Magdalena River down to Honda, an inhospitably hot city at the river's last navigable point. Honda, nicknamed Ciudad de las Puentes (City of Bridges), is my father's home town and the ancestral home for us Diagos. 
I sensed that if I didn't take them soon, they'd miss the chance to taste the local foods—the fruits, the breads, the stews—in their proper context and to know what it's like to be part of a huge family clan. In the States, there are only a few of us, each drifting in space, like planets without a sun. In my Colombian family, people are still drawn together in clusters—at least, that's how it was the last time I visited, twenty years ago.
Before we left New York, I spoke with my father on the phone. He said, "It's changed a lot. All the houses are different colors now, with hummingbirds painted by the doorways. Many are bed and breakfasts; It's strange, but they look good. Your Uncle Luis is still there. His new place has a pool!" A pool is vital in a place where it's over 90 degrees every day, but I wanted to show Zoraida and the boys the house where we used to stay every few years when I was a kid, where several generations of Diagos were raised, where everyone used to gather.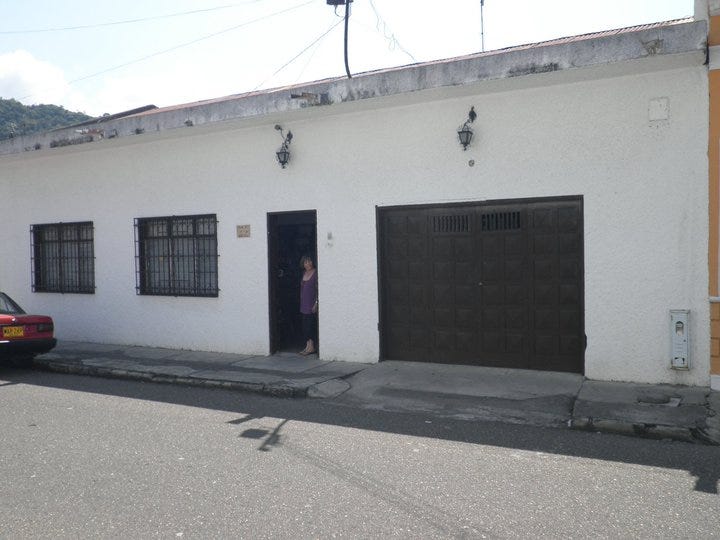 I'd described it to them a hundred times. My great-grandfather, Miguel Angel Diago, was the first to buy it a century ago. Until recently, it was painted white, one in a row of similar one-story Spanish colonials. It had a corrugated zinc roof, dark wooden doors, and front windows covered with wrought iron bars. Just inside, there was a sitting room with a mosaic tile floor, a gramophone on an end table, and rocking chairs, all in front of a garden planted in a section of bare earth. Above the interior garden, the ceiling was open. It was marvelous to watch the rain pour into the house some mornings and then, when the clouds cleared, to see brightly colored hummingbirds descend through the sunbeams, hover by the open flowers, and then shoot down the hallways on either side. They'd pass through the breeze block in the dining room to another garden in the backyard, where luffas hung from a fence and limes hung from tree branches. 
My grandmother kept ripe limes in a crate in the kitchen. All day, the heat coaxed the esters from their rinds, and the aroma permeated the house. It was a good reminder that they could help cool you off, in juice form. It's so hot in Honda that the Spanish almost decided not to settle there, or so I've heard. But it seems people made it work for generations with airy homes and endless limeade—wells and springs of limeade. More than anything else, the flavor of limes brings me back to Honda and the house. I'm not sure who was squeezing them all, maybe the maid, but the pitcher in the fridge was always full. At night, I'd lay in bed, kick my sheets to the bottom edge of the mattress, look at a ceiling fan that was too slow and too high, and reach toward the nightstand for a dripping glass of limeade; during the day, in the front room, I'd lean forward on the edge of a rocker, press my bare feet into the tiles to draw their cold into my body and supplement that cold with more limeade.
That front room was like a family social club. A constantly morphing group of friends and family dropped by in the morning and afternoon to sit in the chairs before the open ceiling and drink cups of "tinto" (black coffee), glass bottles of Coke, or limeade. My grandmother often kept the front door open so she wouldn't have to keep getting up. Occasionally, you heard a woman rattling past with her bread cart, shouting, "Pan de yuca!"
Then, everyone would have crisp, chewy, mildly sweet puffs of yuca bread with their drinks. Each time someone new sat down and said, familiarly, "Que hubo, Migue? Como esta Delores?" I'd ask my dad, in English, "Who is that?" He'd look at me and say, for example: "That's your Tia Olga Suzanna… you know, Gustavo and Angela Hilda's sister… your Abuelita Belen's sister's kids… you know her."  I'd nod, but no, I didn't know her. My grandmother had eleven quite beautiful sisters (their father was nicknamed "El Pipí de Oro"), and my dad had six brothers and one sister. All the abuelas, bisabuelas, and tatarabuelas begat thirty, forty, fifty, maybe more aunts, uncles, and cousins. I only had two maternal cousins in the States, and I'd never encountered another Diago, so meeting so much family was dizzying.
On weekend nights, if it was someone's birthday (when you have 50-something cousins, there's a birthday every weekend), more people accumulated, and my aunt moved the chairs to the perimeter to make a dance floor. Family and friends, young and old, sang the same cheerful Cumbias and danced to the same Porros. At 10 years old, I remember sliding across the floor wearing 1992-sized glasses and a bowl cut to that year's reggaeton group dance thumper, "El Meneaito." 
This summer, after my phone call with my father, as I sat alone in my backyard in Beacon, NY, I thought about my family in Colombia, and it struck me that such an attentive nuclear culture where everyone, young and old, comes together to sing the same songs is vital. Currently, my maternal American grandmother Delores is alone in a residential facility, cursing us all. We are all too far away to visit regularly. It's horrendous and unhealthy. A healthy culture does not leave its elderly depressed and alone for the last years of their lives, it invites them to sing Vallenato, around ten and twenty-year-olds, with their last breaths. 
A family community like that is increasingly out of reach in America. We had to go to Honda, before it changed too much, so my kids could have a good mental model. 
This post is for paid subscribers