Discover more from The Bittman Project
A home for those who believe food is everything and should be treated that way. We celebrate the joy it brings us, but also focus on the very real challenges of making it sustainable and available for all.
Over 101,000 subscribers
---
Huge apologies to my mom, but here's a confession: I never cared about Mother's Day until I had a kid of my own. These are the kinds of injustices you suffer as a mom. And the reason I care so much about Mother's Day now is not the presents or forced love or any of that — it's the time I get to myself. It's in short supply the rest of the year — not a bad thing, because it's awesome to be loved — but this is one day I can count on. The boys go out, I make a big mess out of the bed covers and artfully arrange my pillows and proceed to read whatever trash I want, most likely with a glass of wine or two.
Not that I don't like presents, and I already sent Nick a hint. Maybe it's even below, in our Mother's Day gift guide! See if you can guess.
Not everything is food-related here; not everyone wants food-related gifts. But hopefully you'll find some inspiration.
I like to mention that Mother's Day (and Father's Day) can be a tricky holiday for many. For those of you to whom this applies, we're sending you love. (Go buy yourself something.)
---
Mark's Favorite Gift to Give
Marky B. loves sending flowers from Anuhea to his loved ones. Nick and Holden and I have been the lucky recipients on many occasions. Based in Maui, Anuhea has a thriving mail order business (order early!) and is a wonderful, small team that we love to support. I'm partial to the gorgeous spring wreath, pictured above; there's also a special Maui Mama arrangement available for pre-order. Shop all the options here, and seriously, order early. They'll sell out.
---
Cookware, Tested and Totally Approved by Us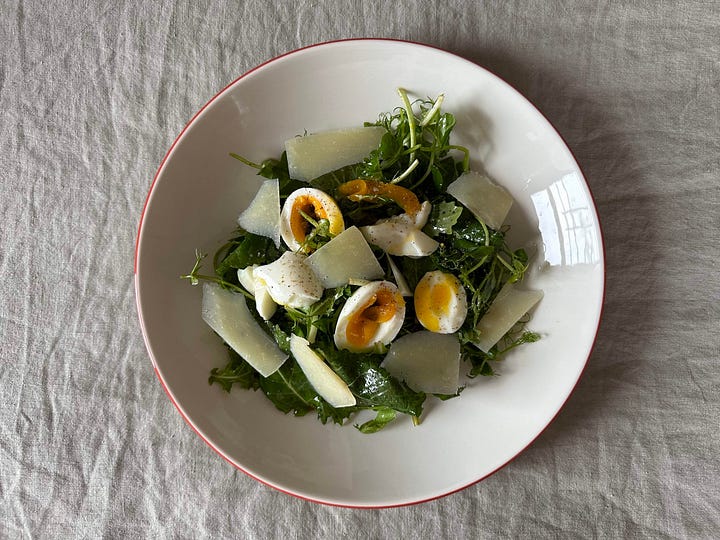 If your person loves to cook, this stuff is for you: Mark and I are both big fans of everything we've tried from Made In. Allow me to give you some specific recommendations, though. Entrée Bowls: They're the perfect size for pasta or a big salad (see above), and since Nick and I got them a few months ago, I think we've used them just about every day. Mise en Place Bowls: Anyone who knows Mark knows he's not a big mise en place guy, but I sure am, and I personally can never have enough different sized bowls to put various aromatics in. I don't have these yet, but I see them in my future. My beloved nonstick saute pan (also above): You gotta trust me on this one. Just seeing it makes me happy and inspires me to cook. It's the perfect size, it looks pretty, and it heats up beautifully. And finally, a stainless clad stock pot with pasta insert. Swoon. I have a version of this, from years ago, that's not as nice as this one, and I use it all the time. I can't wait to upgrade.
---
THE Most Useful Kitchen Gadget
We haven't talked up one of our all-time favorite cooking tools in a while: the OXO One Stop Chop Manual Food Processor. As someone who's more than once worn sunglasses while chopping onions, this little guy has been my trusty sidekick for a while now. It looks small, but you can get a whole onion (roughly chopped) in there. Save your tears.
---
Snacking, Amplified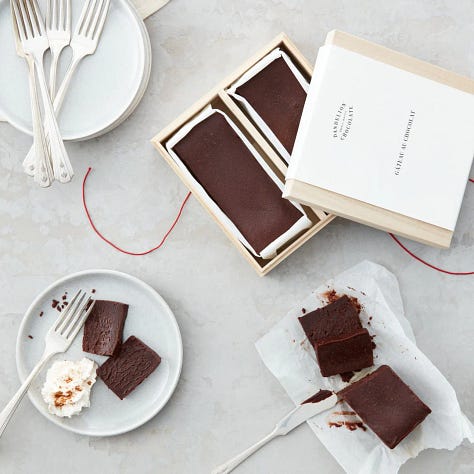 I was hunting around on the Gustiamo website the other day; I have some favorites on there and will occasionally treat myself. If you happen to know your special person's favorites, you could put together an amazing box of goodies. Or, try some of ours: the best almonds you'll ever have; chili peppers in oil that are so good stirred into just about everything; artichokes that I've probably actually dreamed about; more artichokes (I can't tell you which I like better; both are wildly good). Then, not at Gustiamo, but also loved: Red Clay hot sauce (mild and so tasty; their hot honey is also fantastic and really, even spicier than the hot sauce — use MARK15 for 15 percent off your order at Red Clay); and, if you can find it in a local market (it's expanding pretty fast), Little Sesame hummus (it's the only packaged hummus I've ever liked and would be great with the aforementioned chili peppers and some chopped up pickles on a warm pita). One more, and I haven't tried it yet, but if you've got a chocolate lover around, the Tokyo Gâteau from Dandelion Chocolate seems like a safe bet, and is only available through May.
---
JEWELRY
I love Catbird, and while this sweet mama necklace is an obvious choice, I'm especially partial to this planet charm. If you want to go the food route, how about a strawberry?
---
BOOKS
Gotta bring up Heartburn again, because Mark and I both just reread it and loved it in anticipation of our interview with Delia Ephron. A touching, warm, funny, and sassy novel — with recipes.
Mark is loving Niki Segnit'sThe Flavor Thesaurus: A Compendium of Pairings, Recipes and Ideas for the Creative Cook; worth mentioning, too, that its companion, The Flavor Thesaurus: More Flavors: Plant-Led Pairings, Recipes, and Ideas for Cooks, is coming out on May 23.
Want more book recommendations? Here's a comprehensive list of books we've loved and featured.
---
Really Nice Napkins
Maybe add these to the above snack box? They're so pretty. The company is UK-based, so order ASAP.
---
Got gift ideas of your own? We'd love to see them in the comments below.
---
The Bittman Project is a reader-supported publication. To receive new posts and support our work, consider becoming a free or paid subscriber.