You Should Be Cooking the Hell Out of Mushrooms
You'll be shocked at the magical flavor it brings to soups, sauces, snacks, and stir-fries
---
Meet my mushroom guy, Adam DeLeo, smiling behind his market stand last Saturday with his sunny colleague Marissa. You may remember from our holiday gift guides that his dried mushrooms are incredible. Witness the array of foraged and cultivated caps and stems! I'm so lucky to have access to these Pacific Northwest gems. And after working with them over the years, I've learned a lot that also holds true for cooking with common supermarket varieties.
I checked in with Adam this week, and he's still smiling after my proclamation: All fresh mushrooms are most appealing to most people when they're cooked until the texture is dry, chewy, and crisp in places.
Aficionados will be right to push back, saying there's joy in a salad of shaved raw buttons or that treating precious morels to anything more than a light turn in butter and cream is heresy. But for most home cooks—especially anyone standing on the sidelines during our current mushroom boon because of issues with spongy texture or earthy flavors—cooking out most of the water and promoting browning turns haters into lovers.
While we're tossing around bones of contention let's discuss cleaning mushrooms: Enough with the brushes, towels, and possibility of grit. Just put 'em in a colander to run under cold tap water. It's not just me; Mark has been saying this forever. I make one exception to his suggestion to avoid submerging mushrooms: Mud and sand can get into the holes in foraged morels and cauliflower mushrooms—and both are indeed precious—so I swirl those varieties in a bowl of cold water, then gently lift them into a colander, leaving the debris behind in the bowl.
Let's get going.
---
Turn on the Water Works
It doesn't matter whether they're whole, sliced, or torn. When fresh mushrooms start cooking the first thing they do is release a ton of water. Some—like oyster and button mushrooms and this particular batch of foraged fall chanterelles—are shockingly wet. (Spoon off some or all of the juices if you want to capture a little broth to build back into the dish later.) Shiitake, cremini, and portobello are a little less so. Your goal is to escort them through their sobbing phase quickly and painlessly with a little fat, a sprinkle of salt, and medium-high heat. Then just let them stew without stirring. Covering the skillet is optional. But stay nearby: As soon as the pan starts to dry out, the mushrooms will need your attention.
---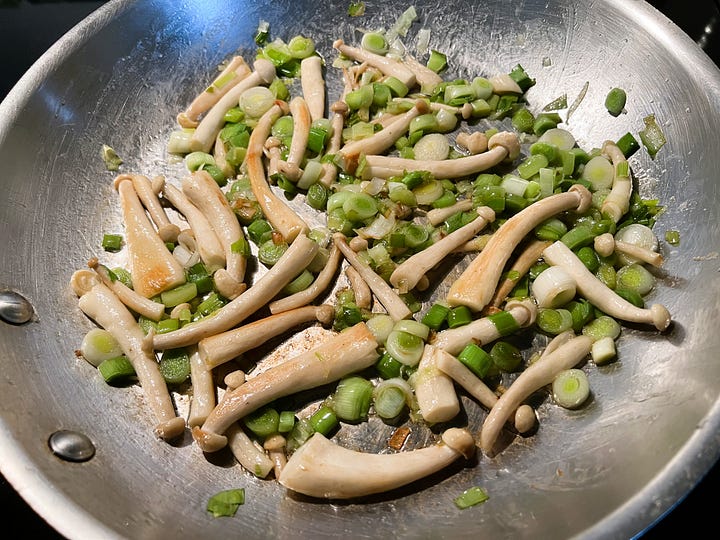 How Dry Is Dry?
After the water cooks off, lower the heat so the mushrooms barely sizzle and keep cooking, stirring now and then until they're as dry and browned as you want them. (I use a flat spatula to scrape up any browned bits as they happen.) The shot on the left—of shimeji or beech mushrooms, which are like pumped up enoki, cooking with garlic and scallions—was after about 5 minutes. Then on the right, you can see what a difference another 10 minutes makes. Noticeably less plump and browner. (You could even go further, but this variety is pretty mild and they were pleasantly chewy.) At this point I remove the mushrooms, deglaze the pan drippings with wine or water and let the liquid bubble away to a syrup, then drizzle that over the mushrooms. That leaves the pan ready to stir-fry other ingredients; then add the mushrooms back in just before serving.
---
My Favorite: Roasting Until Dry
Adam has been bringing gorgeous fresh porcini to the market for the last few weeks. I splurged on three long halves and—in the name of science to test my premise for this story—proceeded to roast them to within an inch of their lives, just to see if I could ruin their prized flavor and/or texture. (I rubbed these with olive oil and salt and cooked them at 425°F, turning once, for about 40 minutes.) To the contrary, they were spectacularly creamy-on-the-inside-chewy-on-the-outside, and I got a few drops of mind-blowing pan sauce in the bargain. The last half I sliced and tossed into a marinara sauce where the mushrooms did what they do and re-absorbed liquid, turning into the also pleasant texture of rehydrated dried porcini. If these babies can take a hard roast and come out kicking, then any mushroom can. And you don't have to stand over the stove and stir.
---
Chewy-Crisp Mushroom Caps
Makes: 4 to 8 servings
Time: 30 minutes to an hour, largely unattended
Here's a master recipe for roasting both mushroom caps and slices or bits (see the variation that follows). You decide how dry to make them. Just know that they crisp as they cool, and that any refrigerated leftovers will soften again. Whole roasted mushroom caps make an impressive base for canapés and are also good for dipping and in salads or soups. And they make terrific snacks dusted with your favorite spice blend or a little Parmesan cheese hot out of the oven.
Ingredients:
1 pound any solid-cap mushrooms (like shiitake, button, cremini, or portabella)

Salt

2 to 3 tablespoons olive oil
Instructions
1. Heat the oven to 400°F. Trim any gnarly looking ends from the mushroom stems and rinse the mushrooms in a colander under cold running water. Trim the remaining stems from the caps (save them for stock if you'd like) and leave the caps in the colander. Sprinkle with a big pinch of salt and toss and shake them a couple times. 
2. If you're using cremini, button, portobello or other thick-capped mushrooms, slice the caps across into 2 or 3 relatively thin circles. Transfer them to a large rimmed baking sheet. Drizzle with 2 tablespoons oil and toss; add the remaining tablespoon if they still seem dry. Spread the caps into a single layer. (It doesn't matter which side is up.)
3. Roast the mushrooms undisturbed for 20 minutes. If they release with a shove of a metal spatula, they're ready to turn. If not, check them again every 5 minutes until they are. Cook the other side until they're dry, browned, and as crisp around the edges as you like, up to another 20 or so minutes. Remove caps from the pan as they finish until all are done. Serve hot or at room temperature, or cover tightly and refrigerate until cold and softened.
Chewy-Crisp Sliced or Torn Mushrooms
Perfect method for oyster or chanterelle mushrooms or any time you want slices, not caps. Instead of removing the stems after rinsing, slice or tear the mushrooms—caps and edible stems—then salt and proceed with the recipe. Start checking after 15 minutes in Step 3. 
— Recipe developed by Kerri Conan
---
Dried (Or Roasted) Mushroom Tapenade
This post is for paid subscribers